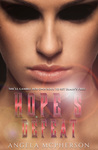 Hope's Defeat by Angela McPherson
My rating: 5 of 5 stars
Hopes Defeat was a great 5 star read and the final book in The Fated series.
This series pulled me in right from the start. We have action, suspense, romance and so much more.
We continue with Blain and Trinity's story, Blain has been infected. Trinity is trying to save him. When she finally finds someone that might be able to help she has to make a choice? Will she make the right one?
I was on an emotional rollercoaster with everything going on and on the edge of my seat wondering what was coming next. There are several twist and turns. All of the secondary characters added a great element to each of the books in the series. Angela McPherson's writing pulls you right in, you feel like your right there with the characters. I was very happy with the ending. I highly suggest reading the series from the beginning, you will understand everything so much better.
Reviewed by @mab54615
View all my reviews
https://itsybitsybookbits.com/wp-content/uploads/2020/05/group-blue-01-April-2020-300x177.png
0
0
Michelle Austin
https://itsybitsybookbits.com/wp-content/uploads/2020/05/group-blue-01-April-2020-300x177.png
Michelle Austin
2018-12-28 10:09:06
2018-12-28 22:18:34
Hope's Defeat (The Fated book 3) by Angela McPherson – Review by Michelle Austin