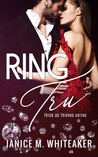 Ring Tru by Janice M. Whiteaker
My rating: 4 of 5 stars
Thievery and romantic suspense? It warms me to the bottom of my greedy, sappy heart. Our leading lady, Tru (who reminded me a bit of Pru from Charmed) has one last job to do before she is out of the thieves life for good, so of course the only thing that could throw a wrench in her perfectly laid plans happens. Her ex-husband, Will, shows up and is clearly shocked by Tru's appearance. He had left her to protect her from the life he lead, but she's still in the thick of it same as him. His self sacrifice and both their broken hearts were all for nothing.
The romantic tension is thick enough to cut in this book. Will old wounds be reopened or will they get a chance to heal? What danger lies in the path of the job both Tru and Will are trying to complete? Does Will get a well deserved punch in the face for being obtuse? Read to find out!
https://itsybitsybookbits.com/wp-content/uploads/2020/05/group-blue-01-April-2020-300x177.png
0
0
Emma Morreale
https://itsybitsybookbits.com/wp-content/uploads/2020/05/group-blue-01-April-2020-300x177.png
Emma Morreale
2018-11-15 05:44:44
2018-11-15 17:53:16
Ring Tru (Thick as Thieves Book 1) by Janice M. Whiteaker – Review by Emma Haverstock