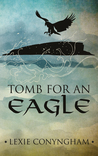 Tomb for an Eagle by Lexie Conyngham
My rating: 4 of 5 stars
Tomb for an Eagle (Orkneyinga Murders Book 1) by Lexie Conyngham is a four star novel. This novel is very interesting because of the historical background that is presented. With the author being a historian, the way the Vikings are portrayed are more than likely accurate. All the details that went into this novel must have taken years of research. The way the author portrayed this town and the people living in it had me yearning for more. As I kept turning pages and reading more and more, I couldn't help but get sucked into the story and the whodunit aspect. This book was full of suspense and kept me guessing right up to the very end.
Review by @julie-lounello
https://itsybitsybookbits.com/wp-content/uploads/2020/05/group-blue-01-April-2020-300x177.png
0
0
Julie Lounello
https://itsybitsybookbits.com/wp-content/uploads/2020/05/group-blue-01-April-2020-300x177.png
Julie Lounello
2018-11-08 09:05:07
2018-11-08 21:23:57
Tomb for an Eagle (Orkneyinga Murders Book 1) by Lexie Conyngham – Review by Julie Lounello