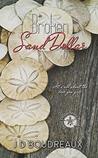 Broken Sand Dollar by J.D. Boudreaux
My rating: 5 of 5 stars
"Broken Sand Dollar" is the wonderful end of the Sand Dollar series by JD Boudreaux. I highly recommend reading the first two books before reading this one so you really know what is going on and get a feel for Alex's journey. This book was such a treat to read. I LOVED the previous books and have been waiting for months for "Broken Sand Dollar" and it did NOT disappoint! This series spans years of Alex's life, some in real time and a lot in flashbacks and JD Boudreaux did an amazing job weaving the story together. At the end of "Wish I Had a Nickel," I could have told you exactly what I thought was going to happen to Alex in "Broken Sand Dollar." Oh boy was I wrong! The turn of events in this book felt so right for Alex and what he has learned through therapy and self- reflection. The ladies of his life are all wonderful characters that all taught Alex something important and it was so great to read a book that touches on mental health and growth in such a positive way. So, I obviously loved this beautiful conclusion and give "Broken Sand Dollar" five well- earned stars!
Reviewed by @emilybee430
View all my reviews
https://itsybitsybookbits.com/wp-content/uploads/2020/07/IBBB_2020_logo_sq.png
0
0
Emily Brockschmidt
https://itsybitsybookbits.com/wp-content/uploads/2020/07/IBBB_2020_logo_sq.png
Emily Brockschmidt
2019-02-22 11:17:18
2019-02-22 11:59:21
Broken Sand Dollar (The Sand Dollar Series Book 3) By JD Boudreaux – Review by Emily Brockschmidt