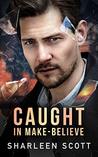 Caught in Make-Believe by Sharleen Scott
My rating: 4 of 5 stars
Caught in Make-Believe by Sharleen Scott is the third book in her The Caught series. This book can be read as a standalone although I feel as a reader you would benefit from starting at the beginning of the series to get the full background and character build up. However it is not necessary and does not take away from the story.
This was a new author for me and I loved how intrigued she kept me throughout the story. I couldn't wait to find out who was behind the threat to Jace and Samantha. I couldn't wait to see if they would find a way to make their relationship work. The chemistry and attraction between them was obvious and believable right from the word go.
The way in which this story was built up help to build the interest and keep you hooked all the way through. The story and characters were well developed and created a depth to the story that made it even better.
I thoroughly enjoyed this book and I will definitely be going back to read the whole series.
https://itsybitsybookbits.com/wp-content/uploads/2020/05/group-blue-01-April-2020-300x177.png
0
0
Kerry Baker
https://itsybitsybookbits.com/wp-content/uploads/2020/05/group-blue-01-April-2020-300x177.png
Kerry Baker
2018-11-07 13:47:12
2018-11-07 18:12:52
Caught in Make-Believe by Sharleen Scott – Review by Kerry Baker