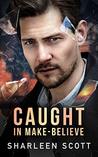 Caught in Make-Believe by Sharleen Scott
My rating: 5 of 5 stars
I just finished reading Caught in Make-Believe by Sharleen Scott (book 3 in the Caught series).
Samantha Dylan and Jace Colton have so much chemistry together, right from the start!
It almost leaps out from the pages!
I previously read the first 2 books in this series and I loved both of them.
Here is something that I wrote in my review of the second book :
"Although I was fully smitten and infatuated with Clay and Harlie – I have got to say that Tallie and Tom are now my new favorite couple (at least until the next book, haha)."
Well… Here I am, admitting that this third installment in this series has again, taken me to new heights!
Samantha and Jace have indeed become my new favorite – and this book had so many moments where I was trying to guess the end but I really didn't see or anticipate where this book ended up taking me! What a wild ride!
Each book, was better than the last! How? I honestly don't know as I thought the first 2 books were epic!
Sharleen Scott is an author that you should definitely subscribe to and look for.
Easiest 5 stars I've ever given!
Reviewed by @bibiak87
https://itsybitsybookbits.com/wp-content/uploads/2020/07/IBBB_2020_logo_sq.png
0
0
Birna Bjornsdottir
https://itsybitsybookbits.com/wp-content/uploads/2020/07/IBBB_2020_logo_sq.png
Birna Bjornsdottir
2019-02-21 12:54:25
2019-02-21 13:18:38
Caught in Make-Believe (book 3 in the Caught Series) by Sharleen Scott – Review by Birna Bjornsdottir