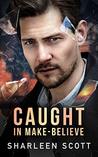 Caught in Make-Believe by Sharleen Scott
My rating: 4 of 5 stars
Caught in Make-Believe by Sharleen Scott
4 Stars
This is book three in the Caught Series. As far as I'm concerned, it's another winner. Each book can be read as a stand-alone seeing as they focus on a different couple in each one. I highly suggest that you read the whole series because it is really good. This story focuses on Samantha Dylan, manager of Harlie's bakery. She finds out things about her fiancé and breaks off the engagement. She's fed up and actually considering leaving Angel Beach but then Jace Colton walks into her life.
Jace Colton has finally decided to return to Angel Beach to face some demons from his past. He needs to put them to rest. Unknowingly, someone has followed him which puts his and Samantha's lives in danger. Secrets can destroy you, and Jace has plenty. Can Jace survive and protect Samantha as well?
Once again Sharleen Scott managed to play with my emotions. I had moments where I literally held my breath in anticipation of what was going to happen. There is a bit of mystery throughout the book which keeps you intent on piecing things together. When the author finally reveals what's happening, it truly is a complete surprise. The story was entertaining and filled with wonderful characters. I absolutely loved this series and I'm sure you will too.
Review by @anna
https://itsybitsybookbits.com/wp-content/uploads/2020/05/group-blue-01-April-2020-300x177.png
0
0
Anna Hirsch
https://itsybitsybookbits.com/wp-content/uploads/2020/05/group-blue-01-April-2020-300x177.png
Anna Hirsch
2019-02-07 14:58:19
2019-02-07 15:11:20
Caught in Make-Believe by Sharleen Scott – Review by Anna Hirsch