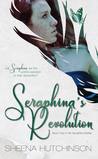 Seraphina's Revolution by Sheena Hutchinson
My rating: 5 of 5 stars
Seraphina's Revolution (The Seraphina Series Book 4) by Sheena Hutchinson
5 Stars
Wow! What an ending to an amazing series! Seraphina has been to hell and back, quite literally. Seraphina has grown throughout this series and her powers along with her. Her powers in this book are incredible but her remorse and guilt are debilitating her. She is having a hard time coming to terms with everything she did while being evil. This lent to me being extremely frustrated with her "woe is me" attitude. As smart as she is, Seraphina continued to make stupid decisions i.e. trusting Jack. Yes Jack is back, he is like a parasite that you can't get rid of. I got angry at her for believing him.
Once Seraphina opened her eyes, the book took off. There was so much action, I was on the edge of my seat. The epic battle at the end had me holding my breath. It was so sad, my heart broke. I loved the introduction of the new characters. I enjoyed the witty banter and interaction they had amongst each other. The dynamic of the book changed. I'll stop there so I don't ruin anything.
The author has an incredible way of weaving a story that will have you riding your emotions. Once you start, you will not be able to put the book down. I fell in love with these characters and their story. Thank you Ms. Hutchinson for this phenomenal series.
Review by @annahirsch
View all my reviews
https://itsybitsybookbits.com/wp-content/uploads/2018/09/41350827_531011120653197_5005389383935721472_n-1030x381.jpg
0
0
Anna Hirsch
https://itsybitsybookbits.com/wp-content/uploads/2018/09/41350827_531011120653197_5005389383935721472_n-1030x381.jpg
Anna Hirsch
2019-03-18 16:01:46
2019-03-18 16:23:49
Seraphina's Revolution (The Seraphina Series Book 4) by Sheena Hutchinson - Review by Anna Hirsch