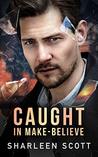 Caught in Make-Believe by Sharleen Scott
My rating: 4 of 5 stars
Caught in Make-Believe by Sharleen Scott is the third book in the Caught series and I hope not the last. There are questions i have that I want answered about a few people and I think Jax would make an amazing story. I would also love to see the grown up versions of the next generation.
I fell in love with Samantha in the first book as Harlie's best friend and fell in deeper love with her in this book. She's a friend, daughter, sister and a warrior who just wants to find her happily ever after.
Jace has a lot of scars from his past and some secrets too. He comes home to Angel Beach after five years not expecting to start living again.
I enjoyed this book and series a lot, more than I had expected to. I'm hopeful that there will he more from them in the future. Fingers crossed.
https://itsybitsybookbits.com/wp-content/uploads/2020/07/IBBB_2020_logo_sq.png
0
0
Robin Rankin
https://itsybitsybookbits.com/wp-content/uploads/2020/07/IBBB_2020_logo_sq.png
Robin Rankin
2019-02-17 07:26:18
2019-02-17 08:54:47
Caught in Make-Believe (The Caught Series Book 3) by Sharleen Scott – Review by Robin Rankin