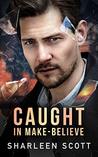 Caught in Make-Believe by Sharleen Scott
My rating: 5 of 5 stars
Caught in Make-Believe is the next mind blowing instalment in Sharleen Scott's The Caught Series! I hope it is not going to be the last one as there are quite a few other characters there that I am sure I am not the only one who would like to get their own story! You could read this story as a standalone though you would get so much more out of it having read the first two stories in the series as you will understand the dynamics better.
Sharleen has given us a mix of romance, suspense, mystery, second chances, action and …. love. There are such intricacies and layers that sometimes when you try to figure out who when and what you realize that you should just sit back and enjoy the ride that Samantha Dylan and Jace Colton are taking us on!
Samantha runs the town's bakery and is friends with Masterson family (that we met in the first and second book) and who has decided to take a break from romantic relationships after another one of hers tanks. Jace has been 'on the road' for the last five years and has return to the town to face his past – "Pistols or swords at dawn" type of showdown. He knows his stay would be temporary but you never know what will happen when the fate interferes in the form of busted pipes and literary aspirations!
I hope you will pick up a copy and disappear into the small town Oregon with all those intriguing characters so you can find out if Samantha and Jace will find their happily ever after!
https://itsybitsybookbits.com/wp-content/uploads/2020/07/IBBB_2020_logo_sq.png
0
0
Jana Teppih
https://itsybitsybookbits.com/wp-content/uploads/2020/07/IBBB_2020_logo_sq.png
Jana Teppih
2019-02-17 17:31:23
2019-02-17 17:48:10
Caught in Make-Believe (The Caught Series Book 3) by Sharleen Scott – Review by Jana Teppih