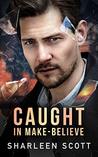 Caught in Make-Believe by Sharleen Scott
My rating: 3 of 5 stars
Caught in Make-Believe (The Caught Series Book 3)
By Sharleen Scott
Rated 3 stars
The beginning seemed slow to me. There was a lot of setting the scene and meeting new (to me) people. I started a list to keep them straight then realized that a few were related. This is the third series in a book and I have not read the first two. That might have helped a bit in the confusion area.
Once the two main characters becomes tangled up with each other the story picked up a bit. This is a romantic suspense and I wasn't sure where the suspense was until about half way through. Then it seemed mostly suspense and not much romance. I am not sure what it is about this story but I can't seem to connect with the characters. I don't care about them so this fell flat for me.
As mentioned this is the third in the series and maybe if I had read the first two I might be better off. Maybe I would be able to connect better. I did like the advice that Jace gave Samantha on writing.
Review by @lisahelmick
View all my reviews
https://itsybitsybookbits.com/wp-content/uploads/2019/09/IBBB_promotions_logo-01-300x180.png
0
0
Lisa Helmick
https://itsybitsybookbits.com/wp-content/uploads/2019/09/IBBB_promotions_logo-01-300x180.png
Lisa Helmick
2018-11-28 06:56:42
2018-11-28 09:44:19
Caught in Make-Believe by Sharleen Scott - Review By Lisa Helmick