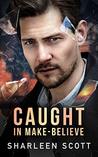 Caught in Make-Believe by Sharleen Scott
My rating: 4 of 5 stars
Caught In Make Believe (The Caught Series Book 3) by Sharleen Scott
4 Stars!!!!
This is the third book in the series and I wasn't disappointed. I found this author to have such a refreshing writing style. I was drawn in and hooked from page one. I just couldn't put this book down.
The way that Jace's past seems to always be there adds to the appeal and draw of this book. I found myself really routing for Jace and Samantha. I found that the author was able to add just enough drama and action to keep my full attention and keep me glued to the book. I also found the way that both Jace and Samantha have a past and both were really just what each other needed. I really look forward to reading more from this author in the future.
Reviewed by @caraleeloonat
View all my reviews
https://itsybitsybookbits.com/wp-content/uploads/2019/09/IBBB_promotions_logo-01-300x180.png
0
0
Caralee Loonat
https://itsybitsybookbits.com/wp-content/uploads/2019/09/IBBB_promotions_logo-01-300x180.png
Caralee Loonat
2019-02-12 15:03:43
2019-02-12 15:22:48
Caught in Make Believe (The Caught Series Book 3) by Sharleen Scott - Review by Caralee Loonat