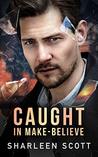 Caught in Make-Believe by Sharleen Scott
My rating: 4 of 5 stars
Caught in Make-Believe is Book 3 in the Caught Series from author Sharleen Scott. This author has given me a brilliant introduction into her writing style and characters she creates, and I will definitely be looking out for more of her reads.
This is my first read from this author, which also makes this my first read in this series, I recommend that books 1 & 2 should be read before this one, just so that you avoid the confusion that got when I first started reading this book. After a while I got into the flow of it and then eventually I couldn't put the read down. This was a brilliant romantic suspense read, that had twists and turns throughout, that had me on the edge of my seat. Jace and Samantha have a great chemistry that I enjoyed reading and following their journey. This book also has me expecting certain things and then the author completely change the course of the book, which kept me on the edge of my seat even more.
I loved that this book was written in various POV's it gave us more insight into our characters – what they were really thinking and feeling and gave greater depth and realness to Jace & Samantha.
This was a brilliant read with amazing characters – I highly recommend you read book 1 & 2 but this read is not to be missed!
Reviewed by @tillytillzz
https://itsybitsybookbits.com/wp-content/uploads/2020/07/IBBB_2020_logo_sq.png
0
0
Chantelle Smith
https://itsybitsybookbits.com/wp-content/uploads/2020/07/IBBB_2020_logo_sq.png
Chantelle Smith
2018-11-28 14:21:25
2018-11-28 14:21:25
Caught in Make-Believe (The Caught Series #3) by Sharleen Scott – Review by Chantelle Smith