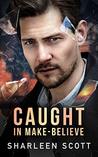 Caught in Make-Believe by Sharleen Scott
My rating: 4 of 5 stars
This book is the third book in the Caught Series and can be read as a stand-alone. It is a romantic suspense story that kept me turn the pages while i was on the edge of my seat. I enjoyed this book and I really liked the main characters Jace and Samantha. Samantha is a manager at a bakery who has the worth luck relationship wise. Jase is a writer/ investigative journalist who has made his way back home after taking a 5 year hiatus. Tragedy and treats made him run the first time, what will happen when he runs into his past.
Will the two of them move on from their past and start a relationship together? Or will does the past hurt to much to take a chance on each other? Get this book to find out!!
This is a well written story and I would recommend it to a friend.
Review by Anastasia D.
https://itsybitsybookbits.com/wp-content/uploads/2020/07/IBBB_2020_logo_sq.png
0
0
Anastasia Dodson
https://itsybitsybookbits.com/wp-content/uploads/2020/07/IBBB_2020_logo_sq.png
Anastasia Dodson
2018-11-28 23:40:41
2018-11-29 05:04:47
Caught in Make-Believe (The Caught Series Book 3) by Sharleen Scott – Review by Anastasia Dodson