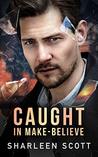 Caught in Make-Believe by Sharleen Scott
My rating: 5 of 5 stars
Caught in Make Believe is the third book in the Caught series. It can be read as a standalone. If you want to get more background info on some of the characters mentioned, to bring things together for you a bit more, I recommend reading the first two books.
I really fell in love with this book. I think it actually might be my favorite out of the three that I've read. I loved the complexity of Jace's character and the resilience of Sam's character. The overall story line was well done. A little romance, a little suspense, a little mystery, a little adventure…makes for a great getaway from reality. I was so into it that I finished it in a day!
Reviewed by @valkyrie
https://itsybitsybookbits.com/wp-content/uploads/2020/07/IBBB_2020_logo_sq.png
0
0
Naomi McDonald
https://itsybitsybookbits.com/wp-content/uploads/2020/07/IBBB_2020_logo_sq.png
Naomi McDonald
2019-02-21 05:48:36
2019-02-21 06:11:00
Caught in Make-Believe (The Caught Series Book 3) by Sharleen Scott – Review by Naomi McDonald