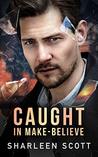 Caught in Make-Believe by Sharleen Scott
My rating: 5 of 5 stars
What a great book! Caught in Make-Believe is the third book in the Caught Series that is written by Sharleen Scott. I haven't read any of the others at all but I didn't have to. This can be read as a standalone. However, I always recommend reading books 1 and 2 first just to have some sort of background. This book follows Samantha and Jace. Samantha just coming out of a relationship where her now ex-fiancé cheated on her within days of asking her to marry him. Samantha also runs the local bakery. Jace hasn't been back to town in quite some time. He used to be a journalist and is now a novelist writing under pen name of J.C. Saylor and an anonymous blogger. However, he is back in town with his trusty sidekick Martin the dog. However, Martin isn't the only one that may have followed him into town. Jace discovered the truth behind a dark net crime organization, which caused him more than he bargained for, which caused him go into hiding. Then he meets Samantha and things start to fall into place for him. Unfortunately, Samantha is having a harder time figuring things out. There is a lot of banter and sexy moments between the two. There is definite chemistry between the two and I was hoping that they would be able to stay together. There are definitely a lot of twists and turns and enough suspense to keep you turning those pages! A definite must read for anyone!
Review by @vegasdaisie
https://itsybitsybookbits.com/wp-content/uploads/2018/09/41350827_531011120653197_5005389383935721472_n-1030x381.jpg
0
0
Melissa Agena
https://itsybitsybookbits.com/wp-content/uploads/2018/09/41350827_531011120653197_5005389383935721472_n-1030x381.jpg
Melissa Agena
2018-11-28 22:21:03
2018-11-29 05:02:40
CAUGHT IN MAKE-BELIEVE (CAUGHT SERIES – BOOK 3) BY Sharleen Scott - Review By Melissa Agena