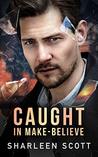 Caught in Make-Believe by Sharleen Scott
My rating: 5 of 5 stars
Caught in Make-Believe (The Caught Series Book 3) By Sharleen Scott. Another fantastic example of a romantic suspense story that had me hooked from beginning to end. While you can definitely read these out of order without confusion I recommend reading them all because they are all great. This one might have just gained the title of my favorite in this series but like I said each one is amazing. The author knows how to capture readers and keep them guessing. I was on the edge of my seat more than once that's for sure. Each character brings something unique to the story and they are complex and relatable. If you want a great suspense story then this author is a go to for sure. I'm giving this book a five star review and highly recommend it to anyone.
https://itsybitsybookbits.com/wp-content/uploads/2020/05/group-blue-01-April-2020-300x177.png
0
0
Katie Kearney
https://itsybitsybookbits.com/wp-content/uploads/2020/05/group-blue-01-April-2020-300x177.png
Katie Kearney
2019-02-09 11:04:07
2019-02-09 11:06:51
Caught in Make-Believe (The Caught Series Book 3) By Sharleen Scott – Review by Katie Kearney