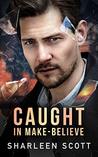 Caught in Make-Believe by Sharleen Scott
My rating: 5 of 5 stars
Caught in Make-Believe was a great 5 star read and book three in the Caught Series.
I have been reading this series from the start and I was really excited to read this next book in the series.
We meet Samantha first, she runs her own bakery and was recently engaged and then her fiance decided to disappear for a week. When he show's back up with another woman she sends him on his way, needless to say she is very unlucky in relationships and has no desire to start another one.
In the four years she lived here, she'd gone from one loser relationship to another.
Jace is an investigative writer and has returned home to Angel Beach, but for how long?
Samantha meets Jace when he comes into her bakery. Something about him draws her in and gets her attention. He's standoffish and rude, but she may have discovered a secret of his. Jace was intrigued by Samantha, and encouraged conversation with her.
Jace and Samantha start growing closer, I enjoyed the bantering between them. They were clearly meant for each other. Overall this was a great read. I loved the connection the characters had and the suspense with a touch of danger added a great element to the story. All the secondary characters were great and Martin was adorable. Sharleen Scott has once again pulled me in and I can't wait to read the next book in the series.
Reviewed by @mab54615
View all my reviews
https://itsybitsybookbits.com/wp-content/uploads/2020/05/group-blue-01-April-2020-300x177.png
0
0
Michelle Austin
https://itsybitsybookbits.com/wp-content/uploads/2020/05/group-blue-01-April-2020-300x177.png
Michelle Austin
2019-02-08 20:38:10
2019-02-08 20:56:54
Caught in Make-Believe (The Caught Series Book 3) by Sharleen Scott – Review by Michelle Austin