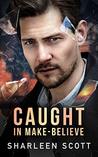 Caught in Make-Believe by Sharleen Scott
My rating: 4 of 5 stars
Caught in Make-Believe is the third book in the Caught Series by Sharleen Scott. Even though this is the third book you can read it as a stand-alone. There will be character references that you may want to go and read the other two books, having said that it should not distract from the story. This story is a romance mystery, thriller, about having a second chance, and a new meaning to the same story. I found myself reading quickly through one part to get to the next scene, only to find out to go back and reread some part because there was a twist when I thought it was going to be a turn. This story is about Samantha who is the manager of Sweet Stuff bakery. She is a wonderful character that I would consider a great friend. At times she is that person who is optimistic all the time. She is fighting a bad break up of a engagement with a cheating fiancé. She finds herself getting close to Jace who was a reporter who has been away for five years. He is ready to put his skeletons away and try this thing called life. You will have to read what has happened with Jace and Samantha's story. It is an intriguing read all the way around.
https://itsybitsybookbits.com/wp-content/uploads/2020/07/IBBB_2020_logo_sq.png
0
0
Erica Fish
https://itsybitsybookbits.com/wp-content/uploads/2020/07/IBBB_2020_logo_sq.png
Erica Fish
2018-11-28 18:04:04
2018-11-28 18:56:46
Caught in Make-Believe (The Caught Series Book 3) by Sharleen Scott – Review by Erica Fish