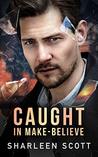 Caught in Make-Believe by Sharleen Scott
My rating: 4 of 5 stars
Caught in Make-Believe by Sharleen Scott is the third book in the Caught Series and follows the story of Jace and Samantha.
The story is following Jace who is an investigated Journalist but something happens while he is researching for a story that lands him in trouble. As he is in hiding he stumbles upon a town where he encounters a woman who he wants to get to know more, but with his past will he be able to pursue happiness without getting her involved in his history.
Samantha owns a bakery and is a successful businesswoman but has always been unlucky in love, her last relationship ended pretty badly as she is about to give men the big heave ho until Jace walks in and throws all caution out of the window.
The story is full of twists and turns and the chemistry between these two characters jumps of the page. The writing is brilliant and draws you into the story from the first chapter, with the twists and turns, added in some suspense will have you frantically turning the pages to see what happens next. This is the first book in this series I have read and I didn't feel like I had missed anything from the previous books in this serious. I would recommend this book and I will be looking at reading the first two books to see what I have missed.
Review by @ashirley
https://itsybitsybookbits.com/wp-content/uploads/2020/05/group-blue-01-April-2020-300x177.png
0
0
Angela Shirley
https://itsybitsybookbits.com/wp-content/uploads/2020/05/group-blue-01-April-2020-300x177.png
Angela Shirley
2018-11-29 01:51:52
2018-11-29 05:03:22
Caught in Make-Believe (The Caught Series Book 3) by Sharleen Scott – Review by Angela Shirley