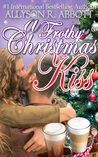 A Frothy Christmas Kiss by Allyson R. Abbott
My rating: 4 of 5 stars
A Frothy Christmas Kiss by Allyson R Abbott is the forth book in the Christmas Kiss series and is a great feel good story. This book follows the story of Dan and Kat and that one thing can lead to a misunderstanding and may put the relationship on a crash course.
Kat loves all things coffee and when a new coffee shop pops up she is in her elements, it also does not help that the owner is absolutely gorgeous, there is certainly abit of flirting going on and they seem to be into each other.
But when Dan has to rush off, Kat is left wondering where the relationship is going, until Dan asks her to work in the coffee shop. Kat can not resist to work with Dan but she finds it hard to be just friends with him. As she struggles with her feelings for Dan and unexpected person from her past turns up and which way will Kat go?
I love this series, its full of light hearted, romantic loveliness, the story is well written and its a great fast pace. I can't wait to read the next book in the series.
Review by @ashirley
https://itsybitsybookbits.com/wp-content/uploads/2019/09/IBBB_promotions_logo-01-300x180.png
0
0
Angela Shirley
https://itsybitsybookbits.com/wp-content/uploads/2019/09/IBBB_promotions_logo-01-300x180.png
Angela Shirley
2018-12-26 05:10:38
2018-12-26 17:15:43
A Frothy Christmas Kiss (Christmas Kiss Series) by Allyson R. Abbott - Review by Angela Shirley