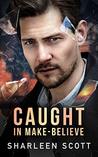 Caught in Make-Believe by Sharleen Scott
My rating: 4 of 5 stars
Caught in Make-Believe by Sharleen Scott is book three of The Caught Series. This book is a romantic suspense. There is just enough mystery and suspense to keep you on the edge of your seat to find out how the story will play out until the end of the book. I suggest reading books one and two as there are some previous characters mentioned.
Samantha has been unlucky in love. She's just about decided to give up on relationships all together. Jace's job as an investigative journalist hasn't been easy. Especially after the threats he's received. Back in town after a lengthy disappearance, she meets Samantha and instantly knows he's attracted to her. Samantha knows it's unlikely that Jace will stay long term but despite that knowledge and the danger Jace's presence can bring, their attraction leads to a relationship. What will the future hold for Jace and Samantha??
I really enjoyed this book. The suspense kept me riveted and I couldn't wait to finish the book just to find out what would happen!
https://itsybitsybookbits.com/wp-content/uploads/2020/05/group-blue-01-April-2020-300x177.png
0
0
Angelina Frazzini
https://itsybitsybookbits.com/wp-content/uploads/2020/05/group-blue-01-April-2020-300x177.png
Angelina Frazzini
2019-02-09 22:12:43
2019-02-09 22:31:19
Caught in Make-Believe (The Caught Series Book 3) by Sharleen Scott – Review by Angelina Frazzini