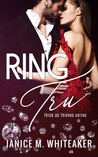 Ring Tru by Janice M. Whiteaker
My rating: 5 of 5 stars
Ring Tru was a good 5 star read and the first book in the Thick as Thieves series.
This was my first read from this author and I was pulled right in. We get mystery, suspense, hot and steamy moments, and so much more.
Gertrude (Tru) has one last job to do and she will finally get to settle down and move on. Unfortunately the job entails being the girlfriend to a very old crotchety man, who has some jewelry she wants to get her hands on. When someone from her past shows up, he throws a wrench into everything she has planned.
Will was shocked to see who the mystery woman was that is dating his boss. His ex that he left 5 years ago to protect her. Now she's right in the middle of a big job and could possibly ruin things for him and get her hurt.
Seeing each other brings back so many feelings of love, hurt, anger, and heat. Can they both get what they want? Will they have a new future together?
There are so many different twists and turns to this great read. We also get some hot and steamy moments from these two as well. All of the secondary characters added a great element to the story. There were a few unexpected surprises and twists. This is a great start to the series and I can't wait to read more. 1-click and get started today.
Reviewed by @mab54615
View all my reviews
https://itsybitsybookbits.com/wp-content/uploads/2020/05/group-blue-01-April-2020-300x177.png
0
0
Michelle Austin
https://itsybitsybookbits.com/wp-content/uploads/2020/05/group-blue-01-April-2020-300x177.png
Michelle Austin
2018-11-17 02:32:45
2018-11-17 14:57:48
Ring Tru (Thick as Theives Book 1) by Janice M. Whiteaker – Review by Michelle Austin