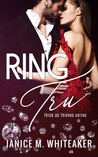 Ring Tru by Janice M. Whiteaker
My rating: 4 of 5 stars
Ring Tru is the first book in the Thick as Thieves series by Janice M Whiteaker. It is the first book I have read by here, and I enjoyed it. There is a good balance of romance, suspense and mystery, while being full of emotions of love, loss, trust and second chances. It is the story of Gertrude (Tru) and Will, who are career thieves, who were once married, but parted ways 5 years ago. They both have very different views on how the breakup went, and its interesting to see how they finally get on the same page again. Tru is posing as the trophy girl friend to a rich geriatric, as one last final job, hoping to walk away with enough of his jewelry to start over and never have to do another job. Will is also taking one last job, posing as security to the same rich client, but on a recovery operation. The last thing they each expected was to see each other working the same job, but from a different angle. Now they need to learn to work together to get the job done, before its too late. I thoroughly enjoyed this book, and cant wait to read the 2nd in the series and see what happens next.
Reviewed by @way2gosmartguy
https://itsybitsybookbits.com/wp-content/uploads/2020/07/IBBB_2020_logo_sq.png
0
0
Elizabeth Sanchez
https://itsybitsybookbits.com/wp-content/uploads/2020/07/IBBB_2020_logo_sq.png
Elizabeth Sanchez
2018-11-19 14:13:50
2018-11-19 15:51:38
Ring Tru (Thick as Thieves Book 1) by Janice M. Whiteaker – Review by Elizabeth Sanchez