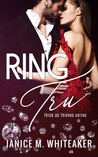 Ring Tru by Janice M. Whiteaker
My rating: 5 of 5 stars
This is the first book I have read from this author and now she has a new fan. I love a good suspense romance but this author exceeded all my expectations. This is the first book of the Thick as Thieves series and it was a perfect book to start a new series with. I was hooked on this book at the first chapter. I could not help but to fall in love with these characters. It only took me a few hours to devour this amazing story.
Tru has been a thief for a while now. She is on her last heist. Tru is so excited to start her new life. She just needs money to make sure she can get what she wants. Tru is getting close to what she wants and then the man she hates walks into her life again. She has not seen her ex husband in years and he still looks good. Her ex husband is now security to the man she is trying to steal from. Tru knows his games and she is not going to fall for it this time. When she finds out the true reason why her ex Will is there she knows that their can be danger. Tru and Will get to know eachother again and sparks start to fly. Will Tru and Will get what they need or will they put themselves into danger they can't get out of?
I absolutely loved this book. The storyline has it all romance, suspense, and mystery. You will fall in love with these characters right from the beginning. Tru is a very independent woman that is afraid of getting hurt again. She just wants a family and someone to love her. Will is a beautiful man that is really smart. The way he cares for Tru will make you swoon. These characters have some steamy scenes that will make your temperature rise. This talented author will have you at the edge of your seat until the end. I can't wait to see what this author will write next.
Review by @heatherbass
View all my reviews
https://itsybitsybookbits.com/wp-content/uploads/2020/07/IBBB_2020_logo_sq.png
0
0
Heather Bass
https://itsybitsybookbits.com/wp-content/uploads/2020/07/IBBB_2020_logo_sq.png
Heather Bass
2018-11-17 06:47:50
2018-11-17 18:52:27
Ring Tru (Thick as Thieves Book 1) by Janice M. Whiteaker – Review by Heather Bass