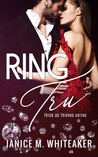 Ring Tru by Janice M. Whiteaker
My rating: 5 of 5 stars
Ring Tru is the first book in the Thick as Thieves series from Janice M. Whiteaker. I had not had the pleasure of reading anything from Whiteaker before and I am so glad that I chose this one to be my first because I loved it! I was definitely gripped from the very first chapter to the last page, and I am anxious to get my hands on the next one in the series.
Tru has one job left before she can be on the path to a straight and narrow life. One problem, her ex is Will is back in the picture and not exactly going to make things easy. Will has always regretted his decision to leave Tru. Regardless of the reasons why he did. He is determined to make up for it now. Will these two be able to work together to pull off this crazy heist? Will they ever overcome their past and the damage that it has caused to have a future together?
This is one of those multilayer stories that leaves you constantly on the edge of the seat. I was never bored. Not only do you have the suspenseful jewelry heist stuff going on, you have the dramatic and tumultuous second chance romance that just tugs at all the right heart strings. It was an even better surprise that it was unpredictable!
Review by@lizaileen
View all my reviews
https://itsybitsybookbits.com/wp-content/uploads/2020/05/group-blue-01-April-2020-300x177.png
0
0
Liz Vrchota
https://itsybitsybookbits.com/wp-content/uploads/2020/05/group-blue-01-April-2020-300x177.png
Liz Vrchota
2018-11-18 19:49:20
2018-11-18 20:34:29
Ring Tru (Thick as Thieves Book 1) by Janice M. Whiteaker ~ Review by Liz Vrchota