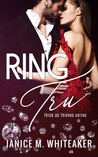 Ring Tru by Janice M. Whiteaker
My rating: 5 of 5 stars
Ring Tru- Janice M. Whiteaker
5-stars
Ring Tru by Janice M. Whiteaker is a must read! It's a second chance romance/crime/thriller type read, and I enjoyed every second of it. This story is action-packed, dramatic, entertaining and so captivating. From the first chapter I was hooked. I ended up reading this book in one sitting as I couldn't bring myself to put it down, I just had to know how everything was going to play out.
I loved both these main characters from the start and I couldn't wait to unravel their past, I found Tru and Will very intriguing. I really enjoyed how this story flowed and I loved all of the detail that Janice used, it made it easy to picture everything playing out in my mind as I was taken on a wild journey alongside Tru and Will in their newest acquisition.
I can't wait to continue this series and I would definitely recommend it to others!
Reviewed by @kaitreview21
https://itsybitsybookbits.com/wp-content/uploads/2020/07/IBBB_2020_logo_sq.png
0
0
Kaitlynn Taylor
https://itsybitsybookbits.com/wp-content/uploads/2020/07/IBBB_2020_logo_sq.png
Kaitlynn Taylor
2018-11-19 04:13:02
2018-11-19 19:22:11
Ring Tru (Thick as Thieves Book 1) by Janice M. Whiteaker – Review by Kaitlynn Taylor