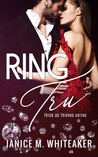 Ring Tru by Janice M. Whiteaker
My rating: 4 of 5 stars
Ring Tru (Thick as Thieves book 1)
Janice M. Whiteaker
4 out of 5 stars
Ring Tru is the first book in Janice M. Whiteaker's Thick as Thieves series and my first experience with this author's writing in general.
I felt like Ring Tru was slow to take off but when it did I felt like the twists, turns and pace of the storyline really were perfect for the rest of the book. This turned out to be the type of story you don't want to set down until it's completely finished.
The synopsis and gorgeous cover work for this book roped me in pretty quickly. I've read suspenseful second chance romance novels before but something about this one felt like it would be different and I honestly felt that it was.
I am not necessarily a fan of second chance romance but I do love stories with danger and suspense mixed so this really hit the mark. I can't recall reading any books with a female thief as the main character, so really Ring Tru was a refreshing, unique read.
I thought the push and pull between Tru and Will was very intriguing and felt both were really strong characters. Overall I thought that Ring Tru was a great introduction to the Thick as Thieves series and I will definitely be following along with the other books. I would even be interested in exploring more of Janice M. Whiteaker's writing outside of this series.
Review by @fnbates
https://itsybitsybookbits.com/wp-content/uploads/2019/09/IBBB_promotions_logo-01-300x180.png
0
0
Felicia Bates
https://itsybitsybookbits.com/wp-content/uploads/2019/09/IBBB_promotions_logo-01-300x180.png
Felicia Bates
2018-11-15 09:04:15
2018-11-15 10:36:12
Ring Tru (Thick as Thieves Book 1) by Janice M. Whiteaker - Review By Felicia Bates