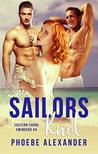 Sailors Knot by Phoebe Alexander
My rating: 5 of 5 stars
Sailors Knot was a great 5 star read and book four in the Eastern Shore Swingers series.
This can be read as a stand alone.
Nothing is predestined: The obstacles of your past can become the gateways that lead to new beginnings.
All I can say is wow! There are so many levels of emotion and life experiences that had me all over the place. You get pulled right in from the beginning with a very hot and steamy moment between Casey and Gabriel. Gabriel encouraged Casey to find a third and that is when she met Joshua and brought him home. We jump from past to present as Casey thinks about things from the past.
Never be ashamed of a scar. It simply means you were stronger than whatever tried to hurt you.
Casey is currently dealing with some life issues and enjoys a visit from her besties among several other things. There is so much more that goes on but I don't want to give anything away. It was really great seeing the secondary characters and how they were doing. Casey is a very strong person and seeing her story past and present really tugs at your heartstrings. When there is an unexpected reconnection can there be a HEA? Phoebe Alexander has done an excellent job with this story, if you like hot and steamy scenes and great characters, 1-click and get started today on this great read.
Reviewed by @mab54615
View all my reviews
https://itsybitsybookbits.com/wp-content/uploads/2020/05/group-blue-01-April-2020-300x177.png
0
0
Michelle Austin
https://itsybitsybookbits.com/wp-content/uploads/2020/05/group-blue-01-April-2020-300x177.png
Michelle Austin
2018-11-15 09:01:36
2018-11-15 21:03:38
Sailors Knot (Eastern Shore Swingers Book 4) by Phoebe Alexander – Review by Michelle Austin