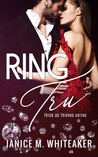 Ring Tru by Janice M. Whiteaker
My rating: 5 of 5 stars
Ring Tru (Thick as Thieves Book 1) Janice M. Whiteaker is an intriguing and interesting second chances romance story. There is mystery and danger, suspense and plotting, love and hate, heartache and loss and a quirky best friend. Welcome to the world of thieves, where things are done for survival. Where surviving means putting yourself through one last job to be able to start over. One last job that means doing things you never thought you would have to do.
Tru was left high and dry and devastated and now she is on her last job but things don't go as planned when the cause of her devastation walks back into her life, seemingly on the same heist but for different reasons.
Jewels, money, passion and a game of cat and mouse and one near death experience make for one exciting read.
Reviewed by @jennadb
https://itsybitsybookbits.com/wp-content/uploads/2018/09/41350827_531011120653197_5005389383935721472_n-1030x381.jpg
0
0
Jenni Bishop
https://itsybitsybookbits.com/wp-content/uploads/2018/09/41350827_531011120653197_5005389383935721472_n-1030x381.jpg
Jenni Bishop
2018-11-19 03:40:12
2018-11-19 06:48:44
Ring Tru (Thick as Thieves Book 1) by Janice M. Whiteaker - Review by Jenni Bishop