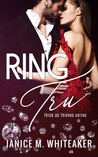 Ring Tru by Janice M. Whiteaker
My rating: 5 of 5 stars
This isn't my first read from this author and once again i was blown away with an amazing storyline! It gripped me in right from the beginning right until the very last page with it's suspense and twists and turns certainly kepy me on my toes! It's one of those novels that once you start you can't set it down not til you've completed it as your eager to find out what's going to happen next. It's a short read but it still backed one hell of a punch and there are some unexpected turns, i truly enjoyed every second of this novel and i can't wait to read more from this author.
https://itsybitsybookbits.com/wp-content/uploads/2020/07/IBBB_2020_logo_sq.png
0
0
Stacey Baxter
https://itsybitsybookbits.com/wp-content/uploads/2020/07/IBBB_2020_logo_sq.png
Stacey Baxter
2018-11-19 07:03:42
2018-11-19 07:31:19
Ring Tru (Thick As Thieves) By Janice M. Whiteaker – Review By Stacey Baxter