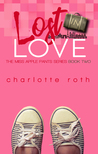 Lost in Love: Miss Apple Pants by Charlotte Roth
My rating: 5 of 5 stars
Well, this was way more than I expected. I expected cute and happy and what I got was a wonderfully told story with some heartbreaking moments. I loved that this was full of emotions, all of the emotions, and Charlotte Roth was not afraid to put it all out there. There are times that a book like this could feel forced, cliche almost, but I don't think this is one of them. I think it was smartly written and controlled so as not to be too much so to speak. This is the second story involving these endearing characters. I haven't read the first book yet but I will soon and I will be keeping my eye out for the next one. I'm hoping that I will get answers to some questions that I have in the next one too.
reviewed by @stefanie
View all my reviews
https://itsybitsybookbits.com/wp-content/uploads/2020/05/group-blue-01-April-2020-300x177.png
0
0
Stefanie Carney
https://itsybitsybookbits.com/wp-content/uploads/2020/05/group-blue-01-April-2020-300x177.png
Stefanie Carney
2019-03-19 13:28:33
2019-03-19 15:39:38
Miss Apple Pants: Lost in Love (The Miss Apple Pants Series Book 2) by Charlotte Roth – Review by Stefanie Carney