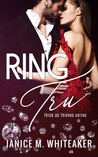 Ring Tru by Janice M. Whiteaker
My rating: 5 of 5 stars
Ring Tru is the first book in Janice M Whiteaker's new series called Thick as Thieves. I have read EVERYTHING that she has written so I have been sitting on hot coals while waiting for this one to be published! It is very different from her other books and I love how she can pick up a different 'genre' and just run with it!
Ring True is a story of second chances peppered with mystery, suspense, danger, intrigue, plots and a lot of love and heartache and … so basically everything under the sun! We meet Gertrude "True" and Will – they share a history, a very intense one and they did not depart on good terms … how would you call when your husband walks out on you when you are in hospital having been shot???!!! Even if he thinks that he did it because he thought it was the best thing he could do for you????!!! Men, do we need to say anything else!
Also, our Tru has been in a very interesting line of business for the last 15 years and she is so ready for a fresh start and this is the last job she will ever do in her old line of business … and then of course there is Will … is he on her side or is she the 'enemy' and what is the job he is working? Will he protect her? Will they find their way back to each other?
Pick up a copy and I know you will join me in impatiently waiting for the second book in the series!
https://itsybitsybookbits.com/wp-content/uploads/2020/07/IBBB_2020_logo_sq.png
0
0
Jana Teppih
https://itsybitsybookbits.com/wp-content/uploads/2020/07/IBBB_2020_logo_sq.png
Jana Teppih
2018-11-12 17:32:09
2018-11-12 19:15:01
Ring Tru (Thick as Thieves Book 1) by Janice M. Whiteaker – Review by Jana Teppih