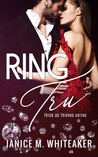 Ring Tru
By: Janice M. Whiteaker
My Rating: 5 of 5 stars
Ring Tru (Thick as Thieves Book 1) by Janice M. Whiteaker was a fast pace, edgy read, that had me hooked from start to finish.
My first read by this author, I was super excited to dive into this book. I love books with thieves, a little cat and mouse, and of course drama. But you'd be surprised now weirdly untouch this plotline is. So when I see these books pop up, I get excited. Ring Thu was not a disappointment. It had a Heartbreakers/The Italian Job feel. (Two movies that I love!) It kept me on my toes, it was captivating, and thrilling.
At first this is just another job for out MC Tru, her last and one to set her and her bestie up for life. You'll find out right away, from the first page, how this has that Heartbreaker feel. Tru's mark isn't exactly young.. you know what I'm saying. Trouble brews when her ex appears as her "hubbies" security detail. This get complicated, fast, and that's where the fun begins. I love their interactions, they attraction. It isn't forced, and you can feel how that no matter the hurt, the time, or the reason, they still are madly in love. It was always a joy watching Tru get all flustered and crazy when Will was around.
Besides that mess, they are there for the same reason, but different all the same. Making things again, complicated. You want to root for Tru, cause of what Will did, but then you get to know him, and hear why he did what he did. Pity sets in, and now, you don't know who to root for, because damn, both of them deserves it. So yeah, this couple will have you switching sides, while making you want to slap them both.
Then there is the underline danger, the weird pieces of the puzzle, and the lingering feeling that maybe there won't be a happy ending for them.
This story has it all, and like I said, it hooked me first from the first page and I could not put it down. Coming in a 225 pages, you could say, it is a fairly shorter read. But still chalked full of madness, mystery, and a hot couple that can't decide what to do with each other. So please take my super high recommendation and my stamp of approval that you be captured by this outstanding, lush, dangerous read, that might just steal your heart…(haha..see what I did there?….I'm amazing I know..)
Happy Reading
Review by @eawalsh
https://itsybitsybookbits.com/wp-content/uploads/2020/05/group-blue-01-April-2020-300x177.png
0
0
Emily-Ann Walsh
https://itsybitsybookbits.com/wp-content/uploads/2020/05/group-blue-01-April-2020-300x177.png
Emily-Ann Walsh
2018-10-22 19:53:36
2018-10-22 20:21:32
Ring Tru (Thick as Thieves Book 1) by Janice M. Whiteaker – Review by Emily Walsh