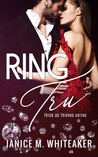 Ring Tru by Janice M. Whiteaker
My rating: 4 of 5 stars
Ring Tru (Thick as Thieves Book 1) by Janice M. Whiteaker
4 Stars
This is my second book by this author and I did enjoy it, I guess my drawback would be that I wish it had been longer. Some things just seemed to happen at warp speed before I even understood really what was going on. The storyline was awesome and the writing was spot on but the details had me curious through most of the book. Sometimes I think books could be cut in half with too many details, this one could have almost been doubled and more time put into the characters histories and exactly why they were where they were today. If that makes any sense at all, it's hard to explain.
Tru was awesome and just wanted to live a normal life but being left with what she thought was nothing by her ex husband, she's forced to take on one more job and it would go perfectly if only she didn't come up against that same ex husband who is also taking on one more job but in a totally different way, both of them out for the same thing yet for different reasons made this an awesome story. My favorite part of the whole book was the infamous manila envelope, that totally cracked me up.
I loved Gretchen and Cooper in this book but again would have loved even more about each of them and can not wait to read the next in this series.
So all in all I loved this story, I love this author's writing and maybe that's one reason I wish it was longer, I would have really enjoyed more of this story and these characters.
Review by @debikircher
https://itsybitsybookbits.com/wp-content/uploads/2020/05/group-blue-01-April-2020-300x177.png
0
0
Debi Kircher
https://itsybitsybookbits.com/wp-content/uploads/2020/05/group-blue-01-April-2020-300x177.png
Debi Kircher
2018-11-19 07:17:03
2018-11-19 07:17:03
Ring Tru (Thick as Thieves Book 1) by Janice M. Whiteaker – Review by Debi Kircher