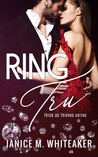 Ring Tru by Janice M. Whiteaker
My rating: 4 of 5 stars
Ring Tru (Thick as Thieves Book 1)
By Janice M. Whiteaker
4 Stars
Ring Tru was a unique read for me. A romantic suspense book where the characters were just a bit shady. From the start, I was engrossed and yearning to find out more about the characters. From Tru, the heroine trying to go straight to Will the criminal who let her go for her own protection, you can't help but love them!
Tru has always done what she needed to survive. But now she is ready to turn over a new leaf and go legit. She only has one more job than she can retire and move on with her life. But dealing with Will, her ex-husband is not what she wants or needs right now. Too bad Will isn't willing to just let her go.
Will regretted walking away from his ex-wife Tru. But to protect her and get her out of the criminal life he did what needed to be done. He's changed his spots (sort-of) and now has Tru back in his life and he's keeping her there. Will they be able to overcome their past and work together to finish the job? Or will outside forces push them past their limits?
Well written, Ms. Whiteaker engages the reader with lots of action and suspense in this book. Fun characters that you identify with help make the book a smooth read. For a first-time author, I was very happy and enjoyed reading this book immensely. I would definitely recommend this author and book. I look forward to the next book in this series.
Reviewed by @nnoble73
https://itsybitsybookbits.com/wp-content/uploads/2020/05/group-blue-01-April-2020-300x177.png
0
0
Nicole Noble
https://itsybitsybookbits.com/wp-content/uploads/2020/05/group-blue-01-April-2020-300x177.png
Nicole Noble
2018-11-16 13:47:39
2018-11-16 15:07:11
Ring Tru (Thick as Thieves Book 1) by Janice M. Whiteaker – Review by Nicole Noble