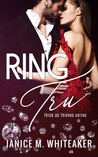 Ring Tru by Janice M. Whiteaker
My rating: 5 of 5 stars
Ring Tru book one in the Thick As Thieves Series written by Janice M. Whiteaker. This was an interesting suspenseful second chance romance. Tru and Will are great characters and I loved this story. The push and pull from them was great and I loved the ending. Throughout the story you wonder which way the characters will go once you figure out what's going on but you know there's something your missing. You know the players and the outcome they want but there's a missing player and you just keep reading because you have to know who the missing player is and their role. Wills best friend Cooper and Tru's best friend Gretchen are the main characters in book two and I can't wait to see how their story plays out.
Reveiwed by @krystalgaston
https://itsybitsybookbits.com/wp-content/uploads/2020/07/IBBB_2020_logo_sq.png
0
0
Krystal gaston
https://itsybitsybookbits.com/wp-content/uploads/2020/07/IBBB_2020_logo_sq.png
Krystal gaston
2018-10-23 08:36:07
2018-11-10 09:19:25
Ring Tru (Thick as Thieves book 1) by Janice M. Whiteaker – Review by Krystal Gaston