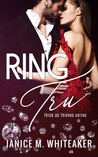 Ring Tru by Janice M. Whiteaker
My rating: 5 of 5 stars
Ring Tru is the first book in the Thick As Thieves Series by Janice M Whiteaker. I had never read any of her work before this and was unsure what to expect. Lets just say that she gets a huge 'thumbs up' from me. I really enjoyed Ring Tru.
Tru has decided that it's time to get away from her life as a high class thief but has one last big job to give her the money needed to go back to a 'normal' life. She's pretending to be in love with filthy rich geriatric Ezra in order to steal a very valuable piece of jewellery from him and replace it with a quality fake made by her close friend Gretchen.
What she didn't expect was to find her ex-husband Will also working for Ezra with a similar plan in mind. Will had left Tru a few years before in order to get her away from this lifestyle and was shocked to see her. Both realise that they are still in love with each other and plan together to swindle Ezra.
I really enjoyed the dynamic between Will and Tru, him trying to protect her from harm and her fighting with her feelings for Will. She really wants to hate him for leaving her but can't deny that she still loves him.
This book had me gripped wondering how (and if) they would finally manage to carry out their elaborate plan. In this book we get hints of a possible romance between Will's friend Cooper and Tru's friend Gretchen. I'm hoping we get more from these two in the next book in this series.
https://itsybitsybookbits.com/wp-content/uploads/2020/07/IBBB_2020_logo_sq.png
0
0
Karyn Taylor
https://itsybitsybookbits.com/wp-content/uploads/2020/07/IBBB_2020_logo_sq.png
Karyn Taylor
2018-11-19 12:08:41
2018-11-19 13:18:14
Ring Tru (Thick As Thieves Book 1) by Janice M Whiteaker – Review by Karyn Taylor