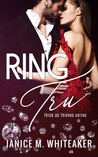 Ring Tru by Janice M. Whiteaker
My rating: 4 of 5 stars
Ring Tru is the first book in the Thick as Thieves series. The ending is not a cliffhanger, but it does seem to have an abrupt conclusion. After everything they went through in the main part of the story, I expected a more well-rounded ending.
Tru is ready to be done with her life of crime. She's doing one last job that will have her set for life. Things get complicated when her ex-husband shows up unexpectedly. Her patience is running thin and he has just added a new hurdle for her to jump. He took everything from her when he left, she won't let him take her future from her too.
After five years, Will never expected to see Tru, especially on a job. He'd left her and tried to move on. When she appears on the scene, Will's attention is split between finishing his mission and trying to keep Tru safe. He can't afford to be distracted, but she is everything he still wants. Can Tru forgive him? As things heat up, can they work together to avoid getting burned?
Romance, suspense, and danger will keep you turning the pages!
https://itsybitsybookbits.com/wp-content/uploads/2020/05/group-blue-01-April-2020-300x177.png
0
0
Naomi McDonald
https://itsybitsybookbits.com/wp-content/uploads/2020/05/group-blue-01-April-2020-300x177.png
Naomi McDonald
2018-11-19 09:40:32
2018-11-19 09:59:56
Ring Tru (Thick as Theives Book 1) by Janice M. Whiteaker – Review by Naomi McDonald