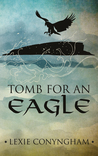 Tomb for an Eagle by Lexie Conyngham
My rating: 5 of 5 stars
Viking who dunnit mystery? More please!
I've always been fascinated by the people we call Vikings so I was hooked at the summary. Sigrid and Ketil are wonderful main characters in this historical suspense novel and the attention to detail on every page were such that it wouldn't surprise me to find some of these locations in real life and wonder if I'd been there before.
There were many twists and turns, red herrings, and I have seldom been more wrong about who I believed to be the culprit.
I can't wait to read more of Lexie Conyngham's books.
https://itsybitsybookbits.com/wp-content/uploads/2020/07/IBBB_2020_logo_sq.png
0
0
Emma Morreale
https://itsybitsybookbits.com/wp-content/uploads/2020/07/IBBB_2020_logo_sq.png
Emma Morreale
2018-11-08 09:14:28
2018-11-08 21:25:33
Tomb for an Eagle (Orkneyinga Murders #1) by Lexie Conyngham – Review by Emma Haverstock