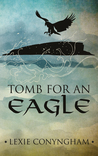 Tomb for an Eagle by Lexie Conyngham
My rating: 4 of 5 stars
Tomb For An Eagle by Lexie Conyngham is the first book in the Orkneyinga Murders series. I found this book to be full of mystery and intrigued and was kept guessing all the way to the end.
This book focuses on Scottish and Norse history and weaves a tale so imaginative that at times it was so easy to imagine you were there. The author effortlessly captures your attention. For me I knew I had to read this book from the second I read the blurb and was already trying to figure out what could be going on.
The characters in this book were perfectly written for the story they were in. It felt like they added to the story rather than were happenstance of what was going on. This book was full of details and it really takes you on a journey. Never at any point was it obvious as to who the killer would be or dull as we were taken on the investigate journey.
I thoroughly enjoyed reading this book. I loved the level of detail in it and I loved how it felt like it was true to the time it was set in. I am looking forward to reading whatever comes next in this series.
https://itsybitsybookbits.com/wp-content/uploads/2020/07/IBBB_2020_logo_sq.png
0
0
Kerry Baker
https://itsybitsybookbits.com/wp-content/uploads/2020/07/IBBB_2020_logo_sq.png
Kerry Baker
2018-11-08 07:35:21
2018-11-08 09:49:56
Tomb for and Eagle (Orkneyinga Murders, #1) by Lexie Conyngham – Review by Kerry Baker