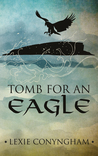 Tomb for an Eagle by Lexie Conyngham
My rating: 4 of 5 stars
Tomb For an Eagle, Orkneyinga Murders Book 1 by Lexie Conyngham
4 out of 5 Stars
This suspense/mystery book will have you gripping the edges of your book or kindle. This is a super fun twist on the classic whodunit. The murder mystery plot to this book is very vivid, full of details and I was constantly switching up my guess as to who the killer was. However, once the ending came around, I was in complete shock and I loved how it was pulled off.
The writing is very smooth. This reads like a dream. You easily fall into the depths of the book and when you look up again, hours have passed and you don't even know it. This book is well worth your time and effort. I loved every inch of this book, and plan to read it again soon.
Reviewed by @kgregory
https://itsybitsybookbits.com/wp-content/uploads/2020/07/IBBB_2020_logo_sq.png
0
0
Krystal Gregory
https://itsybitsybookbits.com/wp-content/uploads/2020/07/IBBB_2020_logo_sq.png
Krystal Gregory
2018-11-01 09:20:33
2018-11-01 21:35:00
Tomb for and Eagle, Orkneyinga Murders Book 1 by Lexie Conyngham – Review by Krystal Gregory