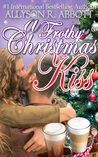 A Frothy Christmas Kiss by Allyson R. Abbott
My rating: 4 of 5 stars
A Frothy Christmas Kiss : Christmas Kiss, Book 4
By Allyson R. Abbott
⅘ Stars
Well, this makes me sad… final book in this sweet and heartwarming Christmas series !! I have enjoyed these books so much! I don't know what is it about the Christmas time… but I love reading these type of books during the holidays !! Makes me believe in love and magic.. cheesy, right ? Lol
Kat is thrilled when the town hunk,Dan,offers her a job at her dream location…a local coffee shop. After all, Kat LOVES all things coffee. So this is the absolute perfect job for her. Besides, her boss isn't too shabby to look at either. Will she be able to keep her feelings and emotions in check for her boss? Or will her desire for him, get the best of her ? Gotta read it to find out, trust me you won't regret it!!
Being a coffee lover , like myself… I can see myself in Kat. I would love to work in a small and local coffee shop. My problem would be , to try not to drink it at all hours… because I wouldn't be able to sleep, ever again! Lol
About her fantastic job, Allyson!! A little sad to see this series come to an end! I'm now a forever fan , I can't wait to see what's in store for us next!!
https://itsybitsybookbits.com/wp-content/uploads/2018/09/41350827_531011120653197_5005389383935721472_n-1030x381.jpg
0
0
Nicole Alamillo
https://itsybitsybookbits.com/wp-content/uploads/2018/09/41350827_531011120653197_5005389383935721472_n-1030x381.jpg
Nicole Alamillo
2018-12-25 05:54:03
2018-12-26 06:37:10
A Frothy Christmas Kiss : Christmas Kiss, Book 4 by Allyson R. Abbott - Review By Nicole Alamillo