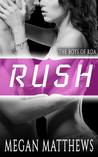 Rush by Megan Matthews
My rating: 5 of 5 stars
Rush (The Boys of RDA Book 1) by Megan Matthews
5 Stars
This was my first book by this author and I loved it…Was a fun break from the heavier books I've been reading lately, not that I don't love those as well but this one was a lot of fun..Don't get me wrong there were times I wanted to slap someone or throw my kindle at the wall but in the end I was completely satisfied and can not wait to read more of this series and want to check out whatever else this author has available.
I loved the main characters Aspen and Finn and love their names even, and something I thought made the book that much better was the friendships and family members that were written. This author also took great care in describing locations, something I find sometimes to be too wordy and cause me to skim, but this one had me actually picturing everything in my mind and I truly appreciated that.
I highly recommend reading this story and I'm sure if you do you will be as excited as I am to read more.
Loved it!!!
Review by @debikircher
https://itsybitsybookbits.com/wp-content/uploads/2020/07/IBBB_2020_logo_sq.png
0
0
Debi Kircher
https://itsybitsybookbits.com/wp-content/uploads/2020/07/IBBB_2020_logo_sq.png
Debi Kircher
2019-02-13 06:47:44
2019-02-13 06:47:44
Rush (The Boys of RDA Book 1) by Megan Matthews – Review by Debi Kircher