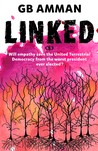 Linked by Gaia B. Amman
My rating: 5 of 5 stars
Linked: Can Empathy Save the United Terrestrial Democracy? – by Gaia B Amman
– review by Natalie Hanley
I have read several books by this author, but she never fails to surprise me – in a good way. Linked is the type of novel I love to read – futuristic, dynamic and a fabulously-built fantasy world. What sets this book apart for me is the gender neutrality of some of the characters and the fluidity of their sexuality. I found this a refreshing inclusion instead of the girl meets boy type of relationships these novels normally promote.
The writing is fabulous and the worlds that Amman builds are sensational. I love the idea of blinking and travelling in time or across dimensions. The story arc builds to a satisfying, if unpredictable conclusion. I loved the introduction of a different type of love triangle – you will understand that when you read the book. Naira is a strong character who is not swayed by her peers. She will not "merge" just because they tell her she should. I liked that about her.
I cant really say much more without spoilers but read it! If you like dystopian/ fantasy fiction, read it. A change from the YA norm.. if it is even classed as YA.
https://itsybitsybookbits.com/wp-content/uploads/2020/07/IBBB_2020_logo_sq.png
0
0
Natalie Hanley
https://itsybitsybookbits.com/wp-content/uploads/2020/07/IBBB_2020_logo_sq.png
Natalie Hanley
2019-04-04 06:48:40
2019-04-04 07:19:21
Linked: Can Empathy Save the United Terrestrial Democracy? by Gaia B. Amman – Review by Natalie Hanley