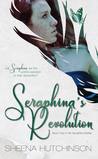 Seraphina's Revolution by Sheena Hutchinson
My rating: 5 of 5 stars
Holy wowzers! This was such an epic ending to a fantastic series that has been one ride I have truly enjoyed. I would definitely read all of these books in order from the very start or you will not truly be able to enjoy or understand quite the magnificence of the the characters or the story tat Sheena Hutchinson has woven within the Seraphina Series.
Seraphina has truly peaked in Seraphina's Revolution! Her powers coming to fruition fully and her finally having the grasp on them that she feels comfortable with. Her weaknesses in this novel that she struggles within her own self, making the journey that much more personal for the reader. And holy Pete that epic, yes I said epic again, battle scene holy cow I will admit to rereading it because I needed to reabsorb the feels it gave me instantaneously. Wonderful novel! I absolutely can't wait to find out what we will see next from Sheena Hutchinson!
Review by @lizaileen
View all my reviews
https://itsybitsybookbits.com/wp-content/uploads/2020/07/IBBB_2020_logo_sq.png
0
0
Liz Vrchota
https://itsybitsybookbits.com/wp-content/uploads/2020/07/IBBB_2020_logo_sq.png
Liz Vrchota
2019-04-09 17:25:44
2019-04-09 18:53:14
Seraphina's Revolution (The Seraphina Series Book 4) by Sheena Hutchinson – Review by Liz Vrchota