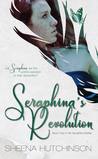 Seraphina's Revolution by Sheena Hutchinson
My rating: 5 of 5 stars
Seraphina's Resolution is the fourth and final novel in the Seraphina series by Sheena Hutchinson. This is my third novel by this author.
Taking place after the previous novel, Seraphina is hard time coming to terms with the things she did while evil.
Nate is there to comfort her, but once he disappears, what will happen to Sera? Will she give in her feelings or will she be able to overcome them and save those she loves?
With this being the last book in the series, I was hesitant to read it. I hate when series end but i also wanted to know what happened at the end of their story.
From the beginning to now, Seraphina has come along way and it was amazing to see how she progressed in each book.
I really don't wanna give anything away but for people who are looking for a paranormal romance with action, twist and turns and character development, I highly recommend this series.
https://itsybitsybookbits.com/wp-content/uploads/2020/07/IBBB_2020_logo_sq.png
0
0
Moriah Venable
https://itsybitsybookbits.com/wp-content/uploads/2020/07/IBBB_2020_logo_sq.png
Moriah Venable
2019-03-24 21:36:34
2019-03-24 22:58:12
Seraphina's Revolution (The Seraphina Series Book 4) by Sheena Hutchinson – Review by Moriah Venable