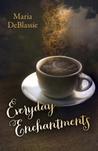 Everyday Enchantments by Maria F. DeBlassie
My rating: 4 of 5 stars
I give Everyday Enchantments: Musings on Ordinary Magic & Daily Conjurings by Maria DeBlassie, 4 stars.
This is a book that shows you many things. It is a collection of writings by an author who finds the happiness in the small things. She makes the everyday seem like magic. There are snippets in here of just about everything. From morning to evening, there is so much that we could be reflecting on, so much to be thankful for. The author shows you how to see things differently.
This is something completely different than what I would normally read. This may fall under the category of self-help or spiritual. But the author is not telling you what to do or think. She is just reflecting on things in her life in a way so you understand. Mainly, this is a book to show you that you can see things in different way. Written in short snippets, it isn't something you have to necessarily sit down and read in one sitting. You could pick it up for a few minutes here and there and learn something new.
If you want a new outlook on life and are interested in finding the magic and happiness in the small things, this book is for you.
Reviewed by @erinwolf79
https://itsybitsybookbits.com/wp-content/uploads/2020/07/IBBB_2020_logo_sq.png
0
0
Erin Wolf
https://itsybitsybookbits.com/wp-content/uploads/2020/07/IBBB_2020_logo_sq.png
Erin Wolf
2018-10-26 06:49:38
2018-10-26 18:58:26
Everyday Enchantments: Musings on Ordinary Magic & Daily Conjurings by Maria F. DeBlassie – Review by Erin Wolf