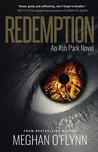 Redemption: An Ash Park Novel: Volume 5 by Meghan O'Flynn
My rating: 4 of 5 stars
Redemption by Meghan O'Flynn is the fifth book in her Ash Park series. As gripping and intense as the others this book is a must read.
Detective Petrosky is haunted my memories of his daughter. He is haunted by memories of a killer and he is haunted be memories of another young woman. One who reminds him of his daughter.
He is so haunted by everything in his past that he wished he could just end it all. Until he receives a phone call – the one that could change everything.
Detective Petrosky is forced to put his grief on hold to throw himself back into a fight he thought long over. The question is, who will be the victor.
This series is such a strong series. Each book has you hooked and this one was no different. The story takes you on a fast paced and intense journey, one that you will never be sure as to what the outcome will be. It will have you not wanting to put the book down until it is over. Meghan O'Flynn has done it again and produced a book that is so easy to read. Definitely worth recommending!
https://itsybitsybookbits.com/wp-content/uploads/2020/07/IBBB_2020_logo_sq.png
0
0
Kerry Baker
https://itsybitsybookbits.com/wp-content/uploads/2020/07/IBBB_2020_logo_sq.png
Kerry Baker
2018-10-18 02:29:19
2018-10-18 15:18:56
Redemption: An Ash Park Novel: Volume 5 by Meghan O'Flynn – Review by Kerry Baker