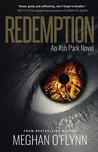 Redemption by Meghan O'Flynn
My rating: 5 of 5 stars
Redemption
An Ash Park Novel
Volume 5
By Meghan O'Flynn
☆☆☆☆☆
This is a complete suspenseful thriller. No spoilers here.
Detective Petrosky is a long time detective. He has been through a lot, and lost a lot. His goal is to stop and catch, The Looking Glass Killer. Not an easy job sense he is one step ahead, of the Detective. But Detective Petrosky will put the case to rest, if it's the last thing he does. This is not his only case. He must also find the scum that murdered his daughter. The one good thing in his life, was taken tortured, burned alive, and left in a field. This Detective will not rest, until these two cases are solved.
Meghan O'Flynn has written the most intense murder mystery I have read in a long time. This story had me at chapter 1, page one. A non stop thriller, just my kind of story. The characters are just as intense as their story. This has been one of those books you hate to put down. Just enough action to keep you searching for the killer yourself. You must read the series in order. Not for those under 18 or with a weak heart.
Review @ Cinful
http://itsybitsybookbits.com/wp-content/uploads/2020/02/group-01-01-300x183.png
0
0
Cindy Mayberry
http://itsybitsybookbits.com/wp-content/uploads/2020/02/group-01-01-300x183.png
Cindy Mayberry
2018-10-30 19:39:43
2018-10-30 21:03:48
Redemption (Ash Park Volume 5) by Meghan O'Flynn - Review by Cindy Mayberry